BAROQUE SINGING-VITERBO 6-8 September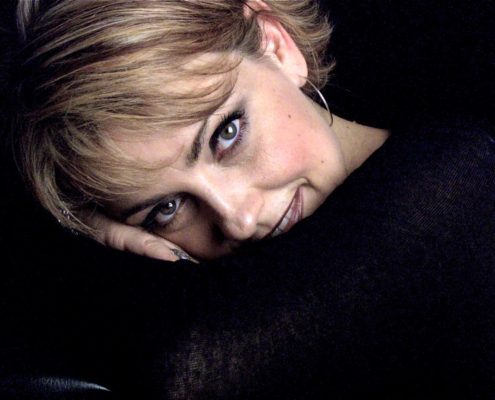 Gemma Bertagnolli, is considered one of the key reference interpretors of Italian baroque music.
Born in Bolzano, after winning the As.Li.Co and Francesco Viñas (special prize for best Mozart intepretor) competitions, she began her career at a very young age, that in a short period led her to sing with all the main Italian and foreign theatres and festivals, collaborating with major conductors and directors from the international scene.
She has dedicated herself to an increasing commitment to early music and baroque repertoire, that she has deepened through the collaboration with leading specialists of historically informed practices.
Among the artists who Gemma Bertagnolli has repeatedly collaborated are: Rinaldo Alessandrini and Concerto Italiano, Giovanni Antonini and Giardino Armonico, Claudio Astronio, Alfredo Bernardini and Zefiro Ensemble, Fabio Biondi and Europa Galante, Ivor Bolton, Christophe Coin, Alan Curtis and Il Complesso Barocco, Ottavio Dantone and Accademia Bizantina, Stefano Maria Demicheli and Ensemble Dolce & Tempesta, Diego Fasolis and I Barocchisti, Federico Guglielmo and L'arte dell'Arco, René Jacobs, Ton Koopman, Marco Mencoboni and Cantar Lontano, Marc Minkoski, Enrico Onofri and Divino Sospiro, Trevor Pinnock, Christina Pluhar and L'Arpeggiata, Christophe Rousset, Federico Maria Sardelli and Modo Antiquo, Jean-Christophe Spinosi and Ensemble Matheus, Freiburger Barockorchester, Akademie für Alte Musik Berlin.
Among the baroque opera productions she has performed are Hasse's Solimano, Monteverdi's Il ritorno d'Ulisse in Patria  and L'incoronazione di Poppea, Händel's Agrippina, La Resurrezione and Il Trionfo del tempo e del disinganno, Pergolesi's L'Olimpiade, Vivaldi's Motezuma, and theatres and festivals such as Berlin's Staatsoper unter den Linden, Maggio Musicale Fiorentino, Bologna's Teatro Comunale, Munich's Bayerische Staatsoper, Festival Styriarte, Jesi's Festival Pergolesi, Ravenna Festival, Zurich's Opernhaus and Lisbon's Teatro Nacional São Carlos.
Bertagnolli's vast concert repertoire includes Mozart's integral sacred music, performed in a multi-year cycle with the Orchestra da Camera di Mantova conducted by Umberto Benedetti Michelangeli, and encompasses works by Bach, Händel, Pergolesi and Vivaldi to Mendelssohn (Symphony no. 2), Beethoven (Symphony no. 9), and Mahler (Symphonys no. 2 and 4). Her partnership with the pianist Antonio Ballista has been particularly strong, and they have collaborated for numerous concerts and recordings.
Her most recent performances include: at Festival di Ambronay, a Vivaldi recital broadcast by Arté with Fabio Biondi and Europa Galante, the Inauguration Concert of the Rossini Opera Festival 2012, concerts in Hamburg and Poissy with Vàclav Luks and Collegium 1704, in Nuremberg with Jürgen Gross and Elbipolis, BR Classic broadcast, a Mozart-Händel concert at the Accademia Chigiana in Siena with the Orchestra da Camera di Mantova conducted by Corrado Rovaris, at the Haendel Festspiele in Halle in 2011 in Agrippina with F. Biondi, in 2012 at the Mottetti Romani with C. Astronio, in Tallinn with Andres Mustonen, Intermedi della Pellegrina in Florence at Palazzo Vecchio with F.M. Sardelli, a Vivaldi recital at Buenos Aires' Teatro Colon with Francesco Fanna and I Suonatori della Gioiosa Marca.
It is the baroque repertoire which makes up the principal component of Gemma Bertagnolli's enormous discography, which boasts critical recognition from Gramophone Award, Choc du Monde de la Musique, and Timbre de Platine d'Opéra International, in particular for her participation in Naïve's Vivaldi Edition.
From 2006 to 2008 Bertagnollli taught baroque singing in several Italian conservatories. Since 2011 she has been a lecturer at Bremen's Hochschule für Künste, holding seminars on pre-classical Italian vocality. In 2011 and 2012 she taught early music singing at summer courses at the Mozarteum Salzburg. Since 2013 she has held summer singing classes in Japan at Kusatsu's International Academy. In Italy she has taught baroque singing at Bolzano, Trento, Frosinone, Pesaro, and Bologna conservatories and is currently teaching at the Vicenza Conservatory.
Registration    € 50
Course              € 250
The payment of the registration fee (€ 50) must be made by bank transfer payable to: Associazione Festival Alessandro Stradella
BCC Formello & Trevignano R. – Fil. Nepi
IBAN: IT 73 F 08812 73190 000000090078
BIC: ICRAITRRMK0
Reason: Registration  Masterclass of BAROQUE SINGING-BERTAGNOLLI-FBAS 2019
To register please fill out the form below attaching the receipt of the rregistration and your  Curriculum Vitae. THE LAST TERM FOR REGISTRATION IS 20th of AUGUST. Once the maximum number of students has been reached for each course the registrations will be put on the waiting list.
The cost for those wishing to attend a second course in addition to the main course is 50% of the cost of the Masterclass only
INFO stradellamasterclass@gmail.com